By Will Vandervort.
By Will Vandervort
Clemson's 40-35 victory over Ohio State in the 2014 Orange Bowl is considered one of the greatest wins in Clemson's long and storied history, and it's hard to argue with that.
Through the years, some of the Tigers' best victories have come in bowl games. The 1951 Orange Bowl victory over Miami comes to mind first as does the 1978 Gator Bowl, the 1988 and '89 Citrus Bowls and of course, the 1982 Orange Bowl victory over Nebraska.
Clemson has beat Hall of Fame coaches like Joe Paterno, Woody Hayes, Tom Osborne, Barry Switzer, Frank Leahy and Don Nehlen in bowl games as well as future Hall of Fame coaches in Phil Fulmer, Les Miles and Urban Meyer.
So what is Clemson's best bowl win? And how would you rank the Tigers' 18 all-time bowl victories, which are tied with Miami for 17th place all-time in college football?
Here is The Clemson Insider.com's ranking of Clemson's all-time bowl victories from 1-18.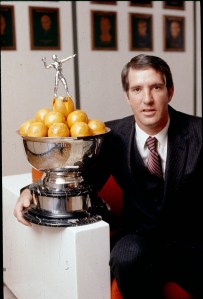 1982 Orange Bowl: Donald Igwebuike kicked field goals of 41, 37 and 36 yards, while running back Cliff Austin scored on a two-yard run and quarterback Homer Jordan threw a 13-yard touchdown pass to Perry Tuttle for a 22-15 victory over No. 4 Nebraska in Miami's Orange Bowl. Jordan was named the game's MVP after throwing for 134 yards and running for another 46. All-American linebacker Jeff Davis had 14 tackles and recovered a fumble as Clemson held the Cornhuskers to 256 total yards. What the victory meant: After 86 years of playing football, Clemson claimed its first national championship in the sport. The win clinched the program's third undefeated and untied season in Clemson history at 12-0. Nebraska is still the highest ranked team the Tigers have beaten in a bowl game.
2014 Orange Bowl: Clemson's defense forced four-second half turnovers, including an interception by linebacker Stephone Anthony in the closing minute to seal the Tigers' 40-35 victory over seventh-ranked Ohio State. Quarterback Tajh Boyd accounted for all six of Clemson's touchdowns as he threw for five and ran for another, while totaling a Clemson bowl record 505 total yards. Wide receiver Sammy Watkins had a Clemson and Orange Bowl record 16 catches for 227 yards and two scores. Anthony added 11 tackles to go along with his four-quarter interception. What it meant: It allowed Clemson for a second straight year to claim 11 victories in a season—a first in the program's history—while proving the Tigers are worthy of being mentioned among the elite teams in the country. Clemson finished the season ranked No. 7 in the country.
2004 Peach Bowl: Quarterback Charlie Whitehurst threw for 246 yards, while running back Chad Jasmin rushed for 130 yards and scored on a 15-yard run as the Tigers stunned No. 6 Tennessee, 27-14. The Clemson defense held the Volunteers to 38 rushing yards. Linebacker Leroy Hill led the Tigers in tackles and recorded two sacks in the victory. What it meant: It was Clemson's fourth straight victory and second over a top 10 team during what is known by Clemson fans as "The Finish." It marked only the second time in Clemson history the Tigers beat two top 10 teams in the same season—the other year was 1981. It also propelled Clemson into the top 25 at No. 22 to conclude the season.
2012 Chick-fil-A Bowl: Led by Tajh Boyd, Clemson came off the mat and scored three times in the fourth quarter—12 unanswered points—in rallying to beat No. 7 LSU, 25-24. Chandler Catanzaro booted a 37-yard field goal as time expired to lift Clemson to the victory. Boyd threw for 346 yards and two scores in one of the gutsiest performances in Clemson history. Boyd was sacked four times and was hit over 30 times when you throw in his 29 rushing carries. Yet, he got back up and led the Tigers on a last minute scoring drive to win the game. DeAndre "Nuk" Hopkins hauled in 13 catches for 191 yards and two scores, while the defense sacked LSU quarterback Zach Mettenberger four times and held him to 120 yards passing. What it meant: It was a nice bounce back win over an SEC power on national television. The year before, the program was embarrassed by West Virginia in the 2012 Orange Bowl. National analyst finally started giving Clemson and head coach Dabo Swinney some respect for all the good they have done in recent years.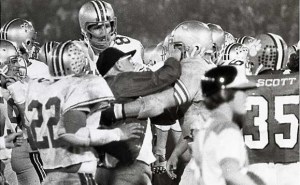 1978 Gator Bowl: Charlie Bauman intercepted a third down Ohio State pass from the Clemson 24-yard line in the final minutes to secure the Tigers' 17-15 victory over No. 19 Ohio State and legendary head coach Woody Hayes. After the play was over Hayes helped Bauman up and then punched the Clemson defensive tackle in the throat, causing a brawl as both benches cleared. Hayes was fired the next day. It was Danny Ford's first game as a head coach after he replaced Charlie Pell—who went to Florida—19 days earlier. What it meant: It gave Clemson its 11th win, capping an 11-1 season. Eight of those wins were by convincing margin. The Tigers finished ranked No. 6 in the final Associated Press Poll and it set the stage for what happened three years later in 1981 and for the Tigers' dominance of the ACC in the 1980s.
1989 Citrus Bowl: Cornerback Dexter Davis knocked down a Jamelle Holieway pass in the end zone on the last play of the game as Clemson beat No. 10 Oklahoma, 13-6. Terry Allen's four-yard touchdown run with 10:28 to play turned out to the winning score. Allen was named the MVP player on offense with 100 all-purpose yards, while linebacker Jesse Hatcher earned defensive MVP honors. The Tigers held the Sooners powerful wishbone attack to 116 yards on the ground. Oklahoma managed only 254 for the game. What it meant: It allowed the Tigers to finish in the AP top 10 for the first time since 1982—a No. 9 final ranking—as well as becoming the first team from the ACC to beat Oklahoma.
1988 Citrus Bowl: Quarterback Rodney Williams threw for 214 yards, while leading the Clemson offense to 499 overall in a 35-10 rout of defending national champion Penn State. It was Joe Paterno's largest margin of defeat in a bowl game during his long career at Penn State. Allen rushed for 105 yards and scored on 25-yard run, while fullback Tracy Johnson had three touchdowns in the win. Wide receiver Keith Jennings had seven catches for a then Clemson bowl record 110 yards. Williams was named the game's MVP. What it meant: Once again, when playing against the best in College Football, the Tigers proved they could play and beat anyone. Clemson finished the season ranked No. 10 in the final Coaches' Poll.
1949 Gator Bowl: Running back Fred Cone scored two touchdowns and rushed for 73 yards, while Ray Matthews ran for 73 more as the Tigers held off Missouri in the fourth quarter for a 24-23 victory. Jack Miller kicked a 32-yard field goal in the fourth quarter—the only field goal of the season by Clemson—that proved to be the difference. Bobby Gage threw for 112 yards and a touchdown. What it meant: It was only the second bowl game in history for the Tigers and it capped a perfect 11-0 season. Clemson was one of only two undefeated teams in 1948 in which they won the SoCon and finished 11th in the final AP poll. In those days, the final rankings were released prior to the bowl games.
1959 Bluebonnet Bowl: The 1959 ACC Champions scored 20 unanswered points in the fourth quarter to rally for a 23-7 victory over then No. 7 TCU. At the time, TCU was the highest ranked team the Tigers had ever beaten and it stayed that way until 1981. Clemson held TCU to 89 yards rushing. The Tigers rushed for 203 yards on 54 carries. What it meant: It was the last bowl win for head coach Frank Howard and the last bowl win for the Tigers until they beat Ohio State in the 1978 Gator Bowl. Clemson finished the year 9-2 and No. 11 in the final AP poll.
1940 Cotton Bowl: Jess Neely's last Clemson team went 9-1 and ranked No. 12 in the country. They concluded the season with a trip to Dallas. Texas for the program's first ever bowl game in the 1940 Cotton Bowl Classic. The Tigers, who were mocked by local and Boston media because no one outside of South Carolina had ever heard of Clemson, beat Boston College and Hall of Fame head coach Frank Leahy, 6-3. Charlie Timmons ran in from two yards out in the second quarter for the game's only touchdown. What it meant: It introduced Clemson to the college football world and proved what kind of program Clemson could be on the national scale if the resources and funds were properly invested.
1951 Orange Bowl: Clemson guard Sterling Smith tackled Miami running back Frank Smith in the end zone for a safety, which proved to be the winning score in the Tigers' stunning, 15-14, victory over Miami. The Tigers held Miami's powerful offense to 222 yards. Clemson blew a 13-0 lead before Sterling Smith saved the day with his four-quarter safety. What it meant: Clemson finished the season 9-0-1, while beating a previously unbeaten Miami team. The Tigers finished the 1950 season ranked No. 10 in the final AP poll, the program's highest final ranking at the time. Clemson would not top that final ranking until the 1978 team finished No. 6 in the final poll.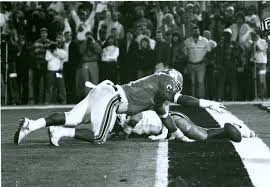 1989 Gator Bowl: The Tigers closed the 1989 season with a stylish, 27-7, victory over West Virginia and Heisman Trophy Finalist Major Harris, who finished the regular season ranked-eighth nationally in total offense. Led by linebacker and MVP Levon Kirkland, the West Virginia quarterback only totaled 136 yards, including 17 on the ground. Kirkland finished the game with nine tackles, a sack, three quarterback pressures, a forced fumble and pass broken up. What it meant: The win gave the senior class the ACC record for victories with 38 and became the first class in Clemson history to win four straight bowl games.
1986 Gator Bowl: After a great display of offense and defense while grabbing a 27-0 lead, Clemson had to hold off a late Stanford charge before finally beating the 17th-ranked Cardinal. 27-21. Quarterback Rodney Williams connected on 12 of 19 passes for 135 yards, while also running for a score. Tailbacks Kenny Flowers and Terrence Flagler combined for 149 yards as the Tigers rushed for 238 overall. Linebacker Henry Carter had 14 tackles to lead a defense that held Stanford to 282 total yards. What it meant: The Tigers got their first bowl victory since the 1982 Orange Bowl, which was the first of five straight bowl wins. It also proved Clemson had rebounded from NCAA probation and was back on track after having subpar 7-4 and 6-6 seasons the previous two years. Clemson went on to win 57 games, four ACC titles and five bowl games during a six-year stretch from 1986-'91.
1991 Hall of Fame Bowl: The Clemson defense, which led the nation in total defense in 1990, dominated the line of scrimmage as the held Illinois to 247 total yards in a 30-0 victory. Illinois' total yards were 150 yards below its season average and the shutout was the third of the year for the Clemson defense. The 30-point victory is still a record for the Tigers in a bowl game. Clemson quarterback DeChane Cameron was named the game's MVP has he completed a Hall of Fame Bowl record 14 of 19 passes for 157 yards and two scores. Kicker Chris Gardocki added three field goals of 18, 26 and 43 yards, while Arlington Nunn returned an interception 30 yards for a score. It was his third return for a touchdown that season – a Clemson record. What it meant: That the Tigers were going to be set up good for an ACC Championship run in 1991, which was the case. Clemson concluded the 1991 regular season with six straight win and were 6-0-1 in the ACC. The school did not win another ACC Championship until 2011.
2005 Champs Sports Bowl: Clemson won its second straight bowl game and its third in its last four with a dominating 19-10 win over Colorado. The game was not as close as the score indicated. The Clemson defense, led by the late Gaines Adams, held the Buffaloes to 124 total yards – the fewest yards allowed in a bowl game by a Clemson defense. Colorado rushed for only 17 yards on 29 carries. Clemson running back James Davis rushed for 150 yards and scored the game-clinching touchdown with 1:38 to play to seal the victory for the Tigers. What it meant: A lot of people thought the bowl win was going to propel the Tigers' to the next level, and they were almost right. Adams returned for his senior season at Clemson and helped the Tigers to a 7-1 start and a No. 10 national ranking, which included a win at No. 9 Florida State. But the Tigers fell apart in the back of the season and lost four of their last five games.
2009 Music City Bowl: Dabo Swinney's first full season as a head coach ended with a 21-13 victory over Kentucky. The Tigers had played for the ACC Championship and just missed on an Orange Bowl berth after falling to Georgia Tech in a shootout in the ACC title game. In his final game as a Tiger, running back C.J. Spiller scored the game-clinching touchdown with 10:14 to play on an eight-yard run. Spiller is considered by many to be the greatest player to have ever played at Clemson. What it meant: It was Clemson's first bowl victory under Swinney and the run to the ACC Championship game was a sign of things to come in his program over the next four years.
1993 Peach Bowl: This is one of the ugliest wins in Clemson history, but nonetheless it was a win and it was a win that came at a good time. Despite going 8-3 in the regular season, Clemson parted ways with head coach Ken Hatfield and hired former assistant coach Tommy West to replace him and coach the Tigers in the 1993 Peach Bowl. With a new staff in place, West—who coached under Danny Ford at Clemson—did his best to have his team ready to play and luckily he benefited from one of the best defenses in the country. The Clemson defense held Kentucky to 293 total yards, keeping them within striking distance all night. With the ball at their own 18 with 3:50 to play in the game, Patrick Sapp found fullback Emory Smith for 57 yards on a screen pass. But a few plays later and with under a minute to play, Sapp was intercepted by linebacker Marty Moore. But on the return, guard Stacy Seegars jarred the ball loose and Brent LeJeune recovered it for Clemson. With 20 seconds left, Sapp connected with the late Terry Smith for a 21-yard score and a 14-13 Clemson victory. What it meant: It gave the Clemson program something positive to think about after what was a turbulent season despite of the 9-3 overall record and No. 23 national ranking.
2001 Humanitarian Bowl: Clemson quarterbacks Woodrow Dantzler and Willie Simmons set a school record for touchdown passes in a game with five in leading the Tigers to a 49-24 rout of Louisiana Tech. Dantzler was the game's MVP after completing 15 of 23 passes for 218 yards and four scores. Clemson set a bowl record with 548 total yards and at one point scored 49 unanswered points to get the win. The Tigers scored 28 points in the third quarter alone, which is also a Clemson record for a bowl game. Running back Bernard Rambert rushed for 101 yards, including a 62-yard touchdown, while Chad Jasmin carried the ball 16 times for 83 yards. It was Dantzler's last game at Clemson. What it meant: It snapped Clemson's five-game losing streak in bowl games and left fans excited about the potential of the 2002 season and the future of the program.