By Ed McGranahan.
By Ed McGranahan
Information can be a valuable commodity, and the Clemson University Athletic Department raised the price.
A memo distributed to the athletic communications staff confirmed long-held speculation that Clemson intended to compete as  the principle source for athletics information, displacing local print, Internet and broadcast outlets.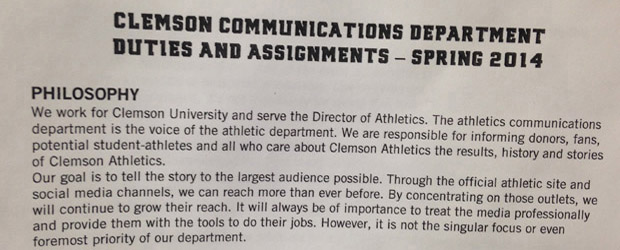 "We are responsible for informing donors, fans, potential student-athletes and all who care about Clemson Athletics the results, history and stories of Clemson Athletics," the memo read. "Our goal is to tell the story to the largest audience possible."
With tools previously the domain of newspapers, TV and radio plus the capabilities provided through digital presentation and social media, Clemson has the same ability as – for example – The Greenville News, Channel 4 and TheClemsonInsider.com to deliver news and information to its students, alumni, staff and fans with a similarly professional presentation.
"It will always be of importance to treat the media professionally and provide them with the tools to do their jobs," read the memo. "However, it is not the singular focus, nor even foremost priority of our department."
No employee of Clemson University including the athletic communication staff provided a copy of the memo to The Clemson Insider. As with last week's announcement that Don Munson would replace Pete Yanity as the voice of Clemson football, some  ask why this is significant.
In this case the shift in philosophy has been fueled largely by the bottom line, although there's another more esoteric purpose.
With more media than ever covering and selling a school's news, athletic departments began to realize that it had an adverse impact on revenue. For decades schools cultivated relationships with local reporters and gave away the franchise in an attempt to sell tickets and reach those who contributed to athletic fundraising. By deploying these new tools and repurposing sports information departments as communication staffs capable of producing print, video and digital products, the university athletic department can compete for readers and viewers on a broader platform.
The signs of change had been evident for a while at Clemson but came into sharper focus under athletic director Dan Radakovich. In a move not totally surprising, longtime sports information director Tim Bourret was displaced by Joe Galbraith, who was hired as director of communications. Galbraith's job revolves around giving Radakovich's vision substance. That meant changing the way Clemson does business with local media.
Controlling the message was critical. After Dabo Swinney became football coach he gradually tightened access to players and staff to control the message. While it's resulted in frustration among some reporters, it has resulted in fewer leaks. With a budget approaching $100 million, Radakovich has the same purpose in mind though it's hard to put a number to the cost of an embarrassing news leak.
There are other changes sure to show more tangible results.
Football and men's basketball attract broad coverage, much less for sports such as track and soccer and rowing and golf, all nationally prominent sports at Clemson. Fans should be able to rely on deeper coverage of the Olympic sports because Clemson won't be limited by time during the 11 p.m. newscast or a space in a newspaper which has a many constituencies.
Accommodating access by local media traditionally costs a number of premium seats in a stadium. This year, reporters covering basketball were moved from their traditional courtside table at Littlejohn Coliseum to a spot in the rafters so that Clemson could market the courtside seats.  Last summer Radakovich took a piece of the football press box to build a new suite he used as a model to market the new bells and whistles available. It was the first of what should become an eventual gentrification of the press level requiring a relocation of the press corps. Those who pay will always have a place at the table which may lead to Clemson charging media outlets for access during premium events. ESPN pays for its access why not everyone else?
One part of the conversation certainly not lost on Radakovich is that the Clemson communication staff cannot touch recruiting under current NCAA guidelines. TCI and the others created originally for generating recruiting news are valuable to spreading the Clemson message, but they shouldn't be comfortable. ESPN has expanded its recruiting team, and it's not difficult to envision a situation in which the network leverages its coverage as the preferred outlet for schools gravitating to this model of new distribution.
Also of concern here is the potential for distorting the message. As a public university Clemson must remain transparent, and there are vehicles in place to hold the school to that standard.
However, the athletic department isn't likely to hire an ombudsman or public advocate to cast a critical eye when the weather becomes stormy, particularly if it cuts into the bottom line.