By Ed McGranahan.
By Ed McGranahan
Pitching requires focus – razor sharp, eye of the needle, cosmic headphone focus. A pitcher who can't clear his head, stare down a batter and block out crowd noise stands little chance of throwing a strike with the count full and runners dancing off first and third with one out in the seventh inning.
And pity the guy who brings personal problems to the mound, worrying about his girl friend or wife. Or his mother who needs a kidney, sooner rather than later.
During a call from his father last fall Clemson sophomore lefthander Matthew Crownover learned that after functioning at about 20 percent for a couple of years, his mother's kidneys had reached a critical low. "It was a shock," said Crownover, Clemson's starting pitcher Friday in the opening game of the NCAA Regional at Vanderbilt University. "She's been dealing with it her whole life. She never let anybody know how tired she was or anything. She would get a shot once a month, and she was okay."
Diagnosed during college with IgA nephropathy or Berger's disease, Susan Crownover had managed to maintain a relatively normal life. Berger's occurs when an antibody lodges in the kidneys and taxes their efficiency as a filter. According to the Mayo Clinic website the condition progresses slowly and the course is uncertain. Some eventually achieve complete remission. Others develop end-stage kidney failure.
"It's just one of those things that you've got to live with," Susan Crownover told TCI this week. "You've got to move on and make the best of it. That's kind of the way we've always rolled around here."
"Normal" for her meant juggling responsibilities as wife to David Crowner, assistant baseball coach at Ringgold High School in her
hometown in North Georgia, as mother to Matthew and Kelby and as teacher and coach at Girls Preparatory School in Chattanooga, Tenn.
Just last week, with Kelby at shortstop, she won an eighth state title, twice beating Baylor after losing to the archrival five times during the season. The previous year she'd relinquished duties as GPS basketball coach after a nine-year run that included two state championships.
"Last year it got exhausting, I'll have to admit," she said. "I realized quickly it was getting more difficult to do. That last six or eight
months it has been that way, tough to get through the day."
Doctors at Emory Hospital in Atlanta estimated her kidneys are functioning at less than 10 percent. This week she had her first
peritoneal dialysis treatment, a procedure which she may administer herself and allows for the flexibility for treatment virtually anywhere.
"She's a trooper, working every day," Matthew Crownover said. "You can only imagine what it can do to your body, just the stress."
Giving up coaching and teaching won't be an option as long as Susan Crownover can tote her kit, which makes its first road trip this week to see her son pitch.
"She has that vibe of being a strong woman," Matthew Crownover said, joking that Mom now has a championship ring for each finger and both thumbs. "I do worry about her. You pray everyday that somebody will be a match for a kidney donation."
Lessons his parents taught him, working to control only the things within your grasp, have paid off handsomely this season for Crownover despite a less than successful regular season for Clemson. Teaming with junior righthander Daniel Gossett to give Clemson one of the best 1-2 punches in the college game, Crownover led the team with eight wins but was 5-4 in the ACC despite allowing only 2.16 runs per game.
Figuring the lefthander was a better match in Friday's game with Oregon, Coach Jack Leggett also knows he'll be throwing one of the team's steeliest competitors. Crownover bristles when it's time to come out of a game.
"He does not want to relinquish the ball," Leggett said. "The last time I took him out of a game. I remember saying, 'He's not going to like this.'"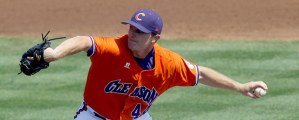 Leggett hasn't been surprised by Crownover's ability to manage baseball and school as his mother's conditioned worsened, but until recently the family has maintained a low profile.
"It's not an easy situation, but he handles it really well," Leggett said. "He's a very mature young man, wise beyond his years.
"He's got a lot of confidence in his mother's toughness."
When the need for a transplant became common knowledge in the community she permitted newspapers in Ringgold and Chattanooga to tell her story. The response has been moving, she said, from people within the communities, many she doesn't know, offering to be tested. Her brother and sister are not matches but, she said, have offered to volunteer for the national pair program in which they would exchange a kidney for one from a compatible donor.
"It's amazing what people are willing to do," she said.
Because she was diagnosed in her early 20s, Susan Crownover does not want Matthew and Kelby tested. The Mayo site said the disease can go undetected for decades and there are indications it may be passed genetically. The average wait for a kidney donor can range from four to 10 years. Dialysis could prolong her life about nine years.
"Not yet," she said. "I told them, it's too early. They still could be in the same shape I'm in. They can't say that my disease is hereditary, but it's too big of chance for them yet. They're just too young. They got a lot going on. They've got a lot to accomplish.
"We'll go this route of dialysis for as long as we can, and we'll try others who can be donors," she said. ""We're not in desperate times yet.
"So far I'm hanging in, and hopefully we'll find one in another way."
As he has done all season, Matthew Crownover carries that to the mound with him in Nashville, Tenn., tomorrow.
If you want to help, please call Emory University Transplant at (877) 
509-9877 or United Network for Organ Sharing (888) 894-6361