By Will Vandervort.
Florida State breaks Clemson's heart and wins in overtime, 23-17.
11:44 p.m.
They are going to overtime tied at 17-17.
11:29 p.m.
Wow! Alexander slipped on the play. Greene catches the 74-yard catch TD to tie the game at 17-17 with 6:04 to play in the game.
11:09 p.m.
Deshaun Watson gives Clemson a 17-10 lead with 11:44 to play in the game with a two-yard touchdown. Mike Williams made a great 37-yard sliding catch at the two-yard line to set up the touchdown. The drive covered 64 yards in four plays after Jayron Kearse intercepted the pass at the Clemson 36.
11:01 p.m.
Kearse gets the interception to give Clemson the ball back at their own 36-yard line.
10:57 p.m.
Twice tonight Clemson has had the ball inside the 20-yard line and twice came away with no points tonight.
10:55 p.m.
Lakip misses his second kick of the night. This time he was wide from 40 yards.
10:52 p.m.
Clemson and FSU end the third quarter tied at 10. Clemson will be trying a 40-yard field goal to start the fourth quarter.
10:51 p.m.
That was a 23-yard loss. This is why QBs should be under center in situations like this.
10:46 p.m.
It looks like the knee was down at the one. But what a great back shoulder fade.
10:45 p.m.
Watson throws a 20-yard touchdown pass to Stanton Seckinger for a touchdown.
10:29 p.m.
FSU defensive end Mario Edwards is out for the rest of the game with a concussion.
Florida State 10, Clemson 10
The Seminoles take the second half kick and drive it 68 yards on 10 plays to tie the game at 10-10. The key play was a third and four pass to tight end Nick O'Leary that moved the ball to the one. On first and goal, Mario Pender carried off the left side for the touchdown.
10:02 p.m.
TALLAHASSEE, Fla. — Clemson dominated both sides of the line of scrimmage in the opening half as the No. 22 Tigers went into the locker room with a 10-3 halftime lead.
Clemson held the Seminoles' offense, which is without Jameis Winston to 84 total yards, including minus-22 rushing yards. Florida State had just four first downs and quarterback Sean Maguire was sacked three times and harassed countless more times.
While the defense owned the line of scrimmage on that side of the ball, the Clemson offense played well in the first 30 minutes as well. The Tigers ran the ball for 72 yards and had 249 total yards overall.
Freshman quarterback Deshaun Watson came in an orchestrated two scoring drives in the second quarter. One ended on a 30-yard drive field goal by Ammon Lakip that tied the game and the other ended in a one-yard D.J. Howard touchdown.
On both scoring drives, the true freshman completed third down throws to keep the drives alive, including two long ones to Germone Hopper and then a third-and-seven pass to tight end Jordan Leggett who took the ball down to the one-yard line. Howard scored on the next play.
Watson was 8-for-12 for 132 yards after coming in the game on the Tigers' fourth series. Cole Stoudt, who was 3-for-5 for 40 yards, could not get Clemson on the board on the first three drives, including one that ended with Lakip missing a 23-yard field goal.
Clemson ran 38 plays for 249 yards in the first half.
Halftime: Clemson 10, FSU 3
Clemson takes a 10-3 lead into the locker room. FSU had minus-22 yards rushing in the first half.
9:47 p.m.
Jordan Leggett has been taken to the locker room. We don't know the injury.
Clemson 10, FSU 3
D.J. Howard with a one-yard TD. Clemson takes the lead 10-3 lead. The big play was a Watson to Hooper pass on third and nine and then a third and seven pass to Leggett to the one yard line.
9:34 p.m.
That is three three-and-outs in a row forced by the Clemson defense.
9:18 p.m.
So far Clemson has been the better team and Beasley gets his 24th career sack and third of the year.
9:14 p.m.
Jay Guillermo just went to the locker room.
Clemson 3, FSU 3
Lakip redeems himself with a 30-yd field goal to tie the game.  The drive was 10 plays 75 yards and took 4:43 to complete.
9:10 p.m.
Clemson has 154 yards to FSU's 80 after one quarter.
9:08 p.m.
That's the end of the first quarter. FSU leads 3-0. Last year the score was 17-7 at this time.
8:58 p.m.
Watson is coming in the game from what we can see in the press box
8:54 p.m.
Stoudt hesitated on that play or he would have received the first down. FSU takes over after the 49 yard punt by Pinion.
8:52 p.m.
This is big third down for the Tigers right here. They need to keep FSU off the field.
FSU 3, Clemson 0
Aguayo will be the difference in this game. He makes a 50-yard field goal and Lakip misses a 23-yard kick. FSU leads 3-0 thanks to the field goal to cap a 9 play, 48 yard drive that took 3:22 off the clock.
8:42 p.m.
This is where FSU misses Winston. Their tempo is a whole lot faster when he is in there. Communication will more than likely be an issue tonight.
8:38 p.m.
Lakip missed a 23-yard field goal after Stoudt failed to hit Leggett who was wide open. Still 0-0. That was better execution in the red zone for the Tigers. Lakip and Stoudt can't fail to execute when you get down in the red zone like that. That wasted what was a very good drive by the Tigers.
8:33 p.m.
Battle did not start tonight because he was a few minutes late to the team meal last night. That is a standard rule for Swinney.
8:31 p.m.
Clemson forces a three-and-out and quiets the crowd for right now.
8:28 p.m.
Clemson did not score on the opening drive for the first time this season. Three and out.
8:26 p.m.
C.J. Davidson is the starting running back
8:23 p.m.
FSU won the toss and will defer to the second half. Clemson gets the ball first.
8:21 p.m.
Clemson enters the field well before FSU does their traditional thing at midfield with the horse
8:20 p.m.
Clemson captains are Steward, Stoudt, Beasley and Smith.
8:16 p.m.
The game time weather is 75 degrees with a 10 percent chance of rain.
7:53 p.m.
FSU's students just gave Sean Maguire a standing ovation when they called his name out just now.
7:50 p.m.
Ryan Norton will start at center and David Beasley will start at left guard.
7:41 p.m.
Winston was in full uniform earlier during warm ups and was throwing the football. He now has black pants on and a black jersey.
7:17 p.m.
Swinney is breaking his tradition. Clemson is wearing White tops with Orange pants. I wonder if that means he feels like the team has earned the right to wear them. He said last year he only wanted to wear orange pants when he felt like the team was deserving of the orange pants mystic that it carried back in the day under Coach Ford.
7:12 p.m.
Florida State is wearing one of their new uniforms. The gold helmet with the spears that touch in the back and the garnet jersey with tomhawks on the sleeves and gold pants.
7:05 p.m.
Stoudt and Watson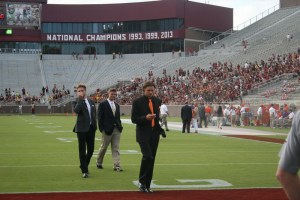 6:54 p.m.
In case you missed it, here is how I think tonight's game will break down. Link
6:18 p.m.
The Clemson team is arriving and is about to enter the stadium.
6:11 p.m.
It rained and it stopped. Now the students are coming in two hours before kick. Take notice Clemson students.
6 p.m.
Tonight's storylines
*Florida State's Sean Maguire will make his first career start tonight. He has played in 10 games in his career and has thrown just 26 passes.
*FSU enters the game with an 18-game winning steak.
*FSU has a 15-game ACC winning streak
*Clemson is 0-4 against AP No. 1 teams, including 0-3 record against the Seminoles when they have been No. 1.
*Clemson will start Cole Stoudt at quarterback, but Deshaun Watson will also play a lot. Clemson head coach Dabo Swinney says he will then go with the hot hand after that.
*Clemson is playing its second top 12 team to start the year. It's the first time in history the Tigers have played two top 12 teams in the first three weeks of the season. Both games were on the road.
5:45 p.m.
First post of the night as I'm situated in the press box at Doak Campbell Stadium. The weather tonight is supposed to be clear sky with a temperature of 77 degrees.
In case you have been living under a rock or something, Florida State quarterback Jameis Winston has been suspended for the entire game. Sean Maquire will start the game tonight for the Seminoles. I'll have more later.