SOUTH BEND, Ind. — Brooks Crawford pitched his best game of the season and Jordan Greene drove in three runs to lead No. 6 Clemson to a 6-3 win over Notre Dame Sunday in the first game of a doubleheader here in South Bend, Ind.
The win allowed the Tigers to tie the three-game series at one.
Crawford went seven innings, his longest start of the year, and only gave up one run on five hits. He moved to 3-1 on the season.
Clemson (24-7, 9-5 ACC) got on the board with back-to-back home runs in the third inning. With one out Greene hit a solo home run over the left field wall for a 1-0 lead.
Kier Meredith followed with a solo home run of his own to right field. It was Meredith's first career home run as a Tiger in what was just second career game.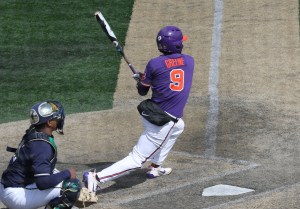 Clemson increased its lead in the fourth inning as Green drove in RBIs two and three on the afternoon with a single to score Grayson Byrd and Kyle Wilkie, who got on with walks. The two-run single gave the Tigers a 4-0 lead.
Clemson added an insurance run in the fifth when Drew Wharton singled to right to score Seth Beer  for a 5-0 lead.
Wilkie hit the third home run of the game, and his first this season, for Clemson in the sixth. His solo shot put the Tigers up 6-0.
The Irish (13-17, 5-9 ACC) plated their first run of the game thanks to two doubles in the seventh inning. In the ninth Notre Dame scored two and brought the tying run to the plate, but a fly to Meredith ended the game.
The Tigers and Irish will play game three of the series at 2:45 p.m.