AIKEN, S.C. — Clemson head coach Dabo Swinney publicly commented for the first time about the passing of former Tiger great Bennie Cunningham.
The former two-time All-American and two-time Super Bowl Champion passed away Monday morning after he lost his fight with cancer. Cunningham had been in the Cleveland Clinic hospital in Cleveland, Ohio since January.
He was 63 years old.
"My thoughts and prayers are with his family," Swinney said to The Clemson Insider Tuesday at the Prowl & Growl event at Aiken Technical College in Aiken, S.C. "It was a privilege to get to know Bennie. He's truly one of the greats. Arguably one of the best tight ends to ever play the game."
Swinney said Cunningham was ahead of his time. During his playing days, Cunningham stood at 6-foot-4 and weighed 250 pounds.
Cunningham played at Clemson from 1972-'75 and was a two-time First-Team All-American. The native of Seneca, S.C., was a consensus All-American choice as a junior in 1974 when he was named first-team by the Associated Press, UPI, the American Football Coaches Association and The Sporting News. He was named first-team All-American by the Walter Camp Foundation and Sporting News in 1975.
A two-time first-team All-ACC selection, Cunningham was the only tight end named to the ACC 50-Year Anniversary team in 2003.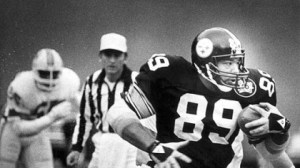 "What would it be like to have Bennie Cunningham in today's offenses," Swinney said. "He was unbelievable. He was long, athletic. There is no doubt he was ahead of the curve."
During his Clemson career, Cunningham caught 64 passes for 1,044 yards and 10 touchdowns. His seven touchdown receptions in 1974 stood as a Clemson record for a tight end until 2011 when Dwight Allen caught eight.
"He was a great player in that system and that style of play in those days," Swinney said. "It was a very physical time with a lot of one tight end, two backs, two wideouts type of football, running the power and running the toss and those kinds of things.
"But, he had that unique ability that back in those days, not a lot of guys had, and that was the ability to really play like a wideout and run, the athleticism, the great ball skills and length."
Cunningham shined in the NFL, too.
A first-round draft choice of the Pittsburgh Steelers in the spring of 1976, Cunningham was the 28th selection of the NFL draft that year. He remains the only tight end in Clemson history to be a first-round draft choice.
One of just seven former Tigers with at least two Super Bowl Championship rings, Cunningham was a member of the Steelers' championship teams from the 1978 and 1979 seasons.
In 2007 he was named to the Steelers' all-time team in conjunction with the 75-year anniversary of the franchise.
Cunningham finished his NFL career with 202 receptions for  2,879 yards and 20 touchdowns. He played in 10 NFL playoff games with the Steelers and had 19 receptions for 219 yards and two scores in those games.
His NFL career spanned 10 seasons (1976-85) and he played in 128 games, including the playoffs.
"He is one those guys that could have played in any era," Swinney said.