Logan Self received his first scholarship offer last month, and it surely won't be his last. The sophomore offensive guard from Trussville (Ala.) Hewitt-Trussville is starting to garner interest from major college football programs.
The top-rated offensive guard in the state of Alabama for the class of 2020, Self was invited to attend Clemson's spring game on April 14, made the trip and left very impressed after his first experience on campus.
"It was a blast," Self said. "It was very homey. Everyone we met was very nice and welcoming. The coaching/recruiting staff is what I love the most though. They gave me a lot of love and made me feel really welcome. It was really fun compared to a lot of other colleges because they really showed each individual recruit attention."
Self (6-3, 275) met and spent the most one-on-one time with offensive line coach Robbie Caldwell and area recruiter Todd Bates.
"Just a lot of encouragement," Self said of what he heard from the coaches. "Coach Caldwell really pushes becoming a better man. I could really tell he is the real deal. Coach Bates is also a super nice guy. Very personable and easy to talk to."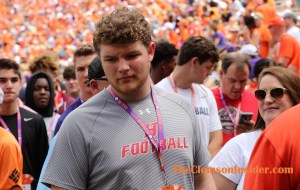 Clemson doesn't throw out a bunch of offers to underclassmen prospects, but the Tigers let Self know he's on their radar and told him to stay patient.
"Well they said they really liked me," Self said. "But they were just telling me stuff like how they don't pull the trigger (on offers) too soon, so that felt good."
Jacksonville State extended Self's first offer in April. In addition to Clemson, he is drawing early interest from schools such as Alabama, North Carolina, Memphis and Middle Tennessee State.
Self, who also attended Alabama's spring game last month, plans to return to Clemson and compete at the Dabo Swinney Camp this summer in hopes of furthering the Tigers' interest.
"(I want to show) that I am a very coachable player that works hard and takes instruction well," Self said, "and that I can use that to gain the skills to play at a school like Clemson."
Self was named to the 2017 All-Trussville Tribune football team following his sophomore season. He is ranked by 247Sports as the No. 1 offensive guard from Alabama and No. 13 overall offensive guard in the 2020 class.