Following a strong showing at the Dabo Swinney Camp, Dallas (Texas) Highland Park 2020 quarterback Chandler Morris received a full scholarship offer from Clemson on Wednesday.
It is the first offer for Morris, the son of Arkansas head coach and former Clemson offensive coordinator Chad Morris.
"I'm so grateful and honored they believe in me," Chandler told TCI. "I love coach Swinney and his staff."
Chandler didn't hear about the offer from Swinney. Instead, Clemson's head coach let his former assistant do the honors of informing his son.
"He called my dad last night and told him he wants to be my first offer," Chandler said, "and my dad told me tonight (Wednesday night)."
Chandler did, however, meet with Swinney on Wednesday before departing to the airport from the Swinney Camp.
"I talked to coach Swinney before I left to Charlotte," Chandler said. "He told me he wants me to play for him and loved my skill level."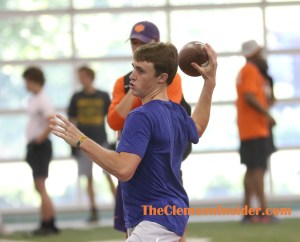 Chandler (6-0, 170) competed at the camp on both Tuesday and Wednesday, and also drew positive feedback from Clemson quarterbacks coach Brandon Streeter.
"He said he was very impressed with me and loved my timing and velocity on the ball," Chandler said.
Chandler enjoyed his experience at the camp and accomplished what he set out to do — showcase his skills.
"It was awesome," he said. "I came in on a mission to prove myself and I feel like I did so, but still a lot to improve on that I learned from camp."
While earning his first offer was huge, Chandler still has work to do this summer. He plans to participate in a few more camps as he prepares for his upcoming junior season.
"I'll be at the Arkansas QB/WR camp on the 14th, then I'll go to Colorado and Auburn and call it a summer to get ready for fall," he said.
Clemson became Chandler's first offer but it certainly won't be his last.
The talented prospect is expected to take over as the starting quarterback this upcoming season for Highland Park High School, which has won back-to-back state championships.