By Will Vandervort.
Clemson at Georgia In-Game Blog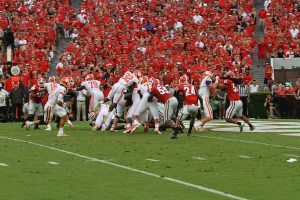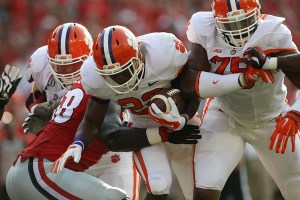 9:16 p.m.
Georgia beats Clemson 45-21. The Tigers had 15 total yards in the second half.
9:00 p.m.
Gurley has 198 yards and has scored four touchdowns after he just rumbled 51 yards for a touchdown with 7:34 to play in the game.
He has 293 all-purpose yards, which is a new Georgia record. The Bulldogs lead 45-21.
8:55 p.m.
Georgia running back Nick Chubb just rumbled 48 yards for a touchdown as Georgia takes a 38-21 lead with 8:53 to play in the game.
That is 24 unanswered points by Georgia after Clemson grabbed a 21-14 lead midway through the second quarter.
8:40 p.m.
Georgia just might have put this game away as Tood Gurley rumbled 18 yards for a touchdown.
On the play he broke a run that was supposed to go right and cut it back up the middle where Stephone Anthony missed him and Jayron Kearse took a bad angle on the backside of the play.
The touchdown gives the Bulldogs a 31-21 lead with 10:26 to play. It capped a 6-play, 82-yard drive that took just 2:30 off the clock.
Georgia 31, Clemson 21
8:28 p.m.
That is the end of the third quarter. Clemson trails 24-21 to Georgia.
8:23 p.m.
Clemson's defense did its part and got a three-and-out, but once again the Tigers could not get anything going offensively.
Deshaun Watson, who led the Tigers on a TD drive, missed an open Demarre Kitt on third down as they were forced to punt again.
8:16 p.m.
Clemson's offense opens the second half with back-to-back three-and-out possessions.
7:56 p.m.
Georgia takes a 24-21 lead with 11:27 to play in the third quarter thanks to a Marshall Morgan 37-yard field goal.
Georgia's drive covered 57 yards on 8 plays and took 11:27 off the clock.
Georgia 24, Clemson 21
7:35 p.m.
Clemson and Georgia are tied at halftime 21-21.
The Tigers got one-yard touchdown runs from D.J. Howard and C.J. Davidson and also a 30-yard touchdown pass from Deshaun Watson to Charone Peake, while racking up 276 yards.
But despite all that success, Georgia was able to keep the game tied, 21-21, at the break. Running back Todd Gurley had a 100-yard kickoff return and also scored on a 23-yard run to pace the Bulldogs.
Georgia had just 126 total yards in the opening half.
Clemson quarterback Cole Stoudt was 9-20 for 115 yards in the first half, while Watson was 2-3 for 59 yards. He also had a 29-yard pass to Mike Williams on the same drive. Williams had three catches for 88 yards.
As good as Clemson played, it also had its mistakes too. Williams and Peake combined to drop three passes that would have kept drives alive, while Stoudt threw an interception to end one drive and Ammon Lakip missed a 35-yard field with 48 seconds left in the first half that could have given them the lead.
Georgia was led by Gurley's 139 total yards and two touchdowns.
Check out our photos from the first half, including Davidson's one-yard plunge that gave the Tigers a brief 21-14 lead midway through the second quarter.  Link. 
7:21 p.m.
Ammon Lakip missed a 35-yard field goal when he shanked it left to end what was once a promising drive by the Tigers that started at its own 19 and end at the Georgia 17.
7:10 p.m.
Here are the photos from Deshaun Watson's College debut. link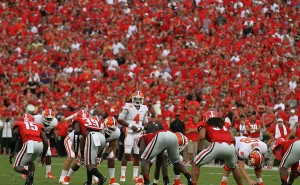 7:02 p.m.
Clemson took the lead back as Cole Stoudt came back in and directed the Tigers on a 10-play, 68-yard drive which running back C.J. Davidson capped with a one-yard touchdown run when he dove over the top on third-and-goal from the one.
Georgia's Todd Gurley took the ensuing kick 105 yards for a touchdown to tie the game at 21-21 with 7:15 to go in the first half.
6:54 p.m.
C.J. Davidson goes over the top like Terry Allen used to give Clemson a 21-14 lead with 7:28 to play in the first half.
Clemson 21, Georgia 14
6:44 p.m.
Clemson tied the game when Deshaun Watson found Mike Williams for 29 yards to Georgia 30 on third down. On the very next play, he zipped a pass over the head of Wilson and right into the arms of Peake for the touchdown to tie the game. The drive covered 78 yards in six plays and took just 1:42 off the clock.
Clemson 14, Georgia 14
6:39 p.m.
Charone Peake caught a 30-yard touchdown pass from Deshaun Watson when he dropped a ball right over the head of Georgia linebacker Ramik Wilson to tie the game at 14-14 with 13:52 to play in the first half.
6:33 p.m.
Clemson freshman quarterback Deshaun Watson entered the game just before the end of the first quarter.
6:32 p.m.
Hutson Mason gives Georgia its first lead of the game with 0:35 left in the first quarter when he keeps on a two-yard run. The Bulldogs need only five plays and a minute and six seconds to score following a third straight three-and-out by Clemson's offense.
Clemson's defense forced a fumble on the previous drive but Charone Peake dropped a pass that would have given Clemson the ball near midfield.
Georgia 14, Clemson 7 (end of the first quarter)
Check out our pictures from Clemson's opening drive for a touchdown. Link
6:04 p.m.
Georgia tied the at seven with 6:36 to play in the first quarter when Tody Gurley exploded off the left side for a 23-yard touchdown. The Bulldogs drove 57 yards in 5 plays to tie the game up. The drive took 1:13. They key play was a Hutson Mason 19-yard pass to Michael Bennett.
Clemson 7, Georgia 7
5:52 p.m.
Clemson took a 7-0 lead on its opening possession of the game when it matched 70 yards in 12 plays, capped by a one-yard D.J. Howard touchdown.
Quarterback Cole Stoudt, in his first start, first hit Mike Williams on a slant that Williams broke for a 35-yard gain to the Georgia 35. Two plays later on third-and-10, Stoudt scrambled for a 20-yard gain. He later picked up another first down on third-and-one which moved the ball inside the five on a quarterback power.
Four plays later, Howard completed the drive with his one-yard score on fourth down.
The Bulldogs went three-and-out on its first possession.
5:46
Clemson running back D.J. Howard take it from a yard out to give Clemson a 7-0. The touchdown capped a 70-yard drive that took 12 plays. Clemson leads 7-0 with 10:46 to play in the first quarter,
5:44
Clemson take the opening drive and take it to the one-yard line where they face fourth-and-goal. Clemson has converted on two third and long plays to get in this position.
Peake has not been in since the first play of he game.
Reid Webster started at left guard for Clemson
5:36 p.m.
Davidson and Greene to receive for Clemson
5:34 p.m.
Georgia won the toss and Clemson will get the ball first.
5:33 p.m.
Captain Sam Cooper is not going on the field with the rest of the captains. Interesting.
5:31 p.m.
Let's kick this thing off. Finally we can can stop talking and see a football game.
5:19 p.m.
Georgia trying to get the fans fired up today as they welcome Hershel Walker to the sold out crowd of 93,000 and they went crazy. A little side note here, though. Walker never scored a touchdown against Clemson.
5:10 p.m.
Clemson head coach Dabo Swinney talks to the team before they head into the locker room after pregame warm ups.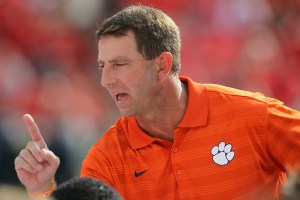 5:10 p.m.
Georgia just announced that Blake Tibbs will start at wide receiver today over Reggie Davis.
5:05 p.m.
The flip card has Jayron Kearse listed as the starter at free safety for Clemson over Jadar Johnson. In camp this was the best battle at any position.
Dabo Swinney talks to Tavaris Barnes in warm ups.
4:58 p.m.
David Beasley is dressed for the game. He is NOT going to play though. Swinney just aloud the players to travel and dress if they wanted to. Corey Crawford and Gary Peters are dressed out too.
4:52 p.m.
Clemson WR Charone Peake does not look 100 percent from our vantage point in the press box. He was having a hard time coming in and out of his breaks. He was also walking very gingerly on his leg.
4:46 p.m.
For an old school guy like me, seeing someone wear the No. 4 jersey seems weird to me. But Deshaun Watson sure does look different than he did in the spring. He looks so much bigger.
Btw, Hale tells me that Milan Richard is dressed today. That might just be a ploy by Dabo because he is from Georgia and his Uncle is Hershel Walker.
4:36 p.m.
Former Clemson wide receiver, now Pittsburgh Steeler, Martavis Bryant is on the Clemson sideline today.
4:30 p.m.
Clemson is wearing all white uniforms today. The kickers are out.
4:20 p.m.
In case you missed it the other night, Clemson's captains for today's game are QB Cole Stoudt, DE Vic Beasley, WR Adam Humphries, TE Sam Cooper and DT Grady Jarrett.
Georgia's captains are QB Hutson Mason, C David Andrews, DE Sterling Bailey and LB Kosta Vavlas.
4:06 p.m.
Just talked to Bill D'Andrea and he told me he is Clemson's new spotter on the Clemson Sports Network.
Also, people think the FSU-Oklahoma game is the big game, but every big time media outlet from SI, CBS, NBC and ESPN are here to cover this game. I'm talking all the big writers from each of the major Web sites.
3:56 p.m.
Clemson is at the stadium and is warming up. Georgia is wearing their traditional and silver pants.
3:01 p.m.
Here are some pictures from inside Sanford Stadium.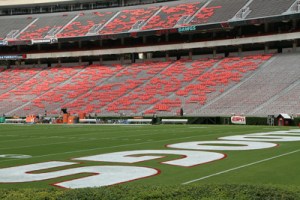 2:30 p.m.
Well, we got a little bit of rain shower once we got in the press box.  Btw, Sanford Stadium is an open air press box, this is only the fourth one I have been in. Virginia, The Georgia Dome, Georgia Tech and now Georgia.
On the way up to the Stadium, Robert and I were commenting on the outside area around the stadium. It is nowhere near as nice as Memorial Stadium as there are too many buildings in that area and lends to very limited parking and tailgating space.
The line on the game has gone up from 7.5 to 10 points in favor of Georgia in the last couple of hours. Kind of makes me wonder what Vegas knows about this game that we don't. I'm going to try and find out.
1:52 p.m.
The ACC is off to a good start. Not really.
The ACC isn't doing so well on this opening weekend. On Thursday night Wake Forest was beat 17-10 by La. Monroe and had less than 100 yards of total offense.
Syracuse needed double OT to beat Villanova and it needed a fake field goal in the second overtime to do that. The Wildcats did score, though, and missed the two-point conversation to end the game.
So far today, Virginia has given up three-defensive touchdowns and trails, 21-10 at the break.
Things seem to be the same in Raleigh, NC State trails Georgia Southern 10-3 at the break.
Pittsburgh is the only one representing as it  leads Delaware, 42-0.
12:30
The Clemson Insider is in Athens, Ga., already as we get you set for today's 5:30 game between No. 16 Clemson and No. 12 Georgia.
First of all, welcome to our in-game blog. I will be posting updates here before, throughout and after the game. I will be doing this in every game. We will also have photos during the game and links to photo galleries during the game as well. Make this blog your one stop shop for the most complete coverage from every Clemson game.
Injury update:
Clemson vs. Georgia
Injury Report
Friday, August 29, 2014

Clemson
Out
Oliver Jones, OT, torn ACL
Zac Brooks, RB, foot
Tyshon Dye, RB, Achilles
Travis Blanks, SAF, Knee
Seth Ryan, WR, collarbone
Probable
Stanton Seckinger, TE, ankle
Georgia
Malcolm Mitchell, WR, out
Justin Scott-Wesley, WR, out
Question: What will be Chad Morris' first play call today? And who will be the main guy in the play? Answer the question in the message board thread in The Rock.