South Carolina State at Clemson Game Day Blog
3:46 p.m.
Today, Clemson ran 93 plays for 735 yards, while South Carolina State gained only 44 yards. It is the first time the Tigers had more offensive snaps than an opponent gained in yards since September 19, 2009, when Boston College gained 54 yards and Clemson ran 78 plays.
3:36 p.m.
The shutout is now over, as Dominique Mitchell takes the ball right out of Fleming's hands on a third-down run and takes it back 40 yards for a touchdown. S.C. State cuts it to a nine-possession game with just over four minutes to play, at 73-7.
3:24 p.m.
A six-yard touchdown run by Adam Choice bumps the lead up to 73-0 with 8:36 to play. That scoring drive featured Curt Fleming rolling for 43 yards on five carries. It also means the Tigers have scored more points today than they have since the 82-24 win over Wake Forest during the national championship season of 1981.
3:16 p.m.
The snap goes over the head of the SC State punter and rolls into the end zone as the Tigers take a 67-0 lead with 12:00 to play.
3:11 p.m.
With that last reception, Scott set the single-game record for receiving yards by a freshman. He now has 6 catches for 164 yards and two touchdowns. Clemson leads 65-0 with 13:34 to play in the game.
3:06 p.m.
Clemson leads SC State 58-0 heading into the fourth quarter. The Tigers have 587 yards to 57 for SC State. Clemson has 12 more plays than SC State has yards.
2:57 p.m.
Clemson's Jadar Johnson intercepts a pass and gives Clemson a 58-0 lead as he returns the pick 60 yards for a touchdown. Btw, Johnson is from Orangeburg so this means someone from Orangeburg has scored a touchdown. Clemson now has four interceptions returned for touchdowns in three games against SC State.
2:53 p.m.
Watson throws a 34-yard touchdown pass to Jay Jay McCullough to give Clemson a 51-0 lead with 5:31 to play in the third quarter. Watson put the pass just over the head of one defender and down the sideline, where McCullough did the rest.
2:44 p.m.
Qualk gets more of what he wants. As Lakip makes a 24-yard field goal to give Clemson a 44-0 lead with 7:50 to play in the third quarter. Scott had a 69-yard catch-and-run on the drive to set up the field goal. He has 4 catches for 149 yards.
2:31 p.m.
D.J. Howard runs six yards for a touchdown as the Tigers take a 41-0 lead to start the third quarter. Clemson had a 7-play, 53-yard drive that took 1:59 off the clock.
2:13 p.m.
After losing to Georgia in the fashion that they did last week, Clemson came out mad against South Carolina in the first half Saturday. Both Cole Stoudt and Deshaun Watson threw touchdown passes, while C.J. Davidson and Adam Humphries ran for two more as the Tigers lead 34-0 at the break.
The Bulldogs, who had 541 yards of offense last week, were held to 30 total yards and only two first downs. All of those yards and first downs came on SC State's last possession of the half. The Bulldogs had minus-13 yards and six three-and-outs prior to that.
The Clemson offense got on track early as Stoudt led a 7-play, 68-yard drive to start the game, which Humphries capped with a two-yard run. Kicker Ammon Lakip kicked a 22-yard field goal on the next drive and two possessions later Watson threw a 7-yard scoring pass to Charone Peake, who made a nice one-handed grab.
Up 17-0, Stoudt threw a 37-yard touchdown pass to Artavis Scott and after a second Lakip touchdown, Davidson capped a 6-play 78-yard drive with a 6-yard touchdown and a 34-0 lead.
Stoudt completed 16 of 23 passes for 182 yards and a TD, while Watson was 5 for 5 for 105 yards and a TD. Running back Wayne Gallman led the Tigers with 6 carries for 41 yards, while freshman Adam Choice rushed for 37 yards on six carries. Scott had three catches for 80 yards and Mike Williams had three catches for 79 yards.
Clemson's offense had 392 total yards on 53 plays in the first half.
2 p.m.
Clemson leads 34-0 at the break. Clemson had 392 yards to SC State's 30.
1:52 p.m.
Check out the photo gallery from Scott's 37-yard touchdown from Cole Stoudt. Link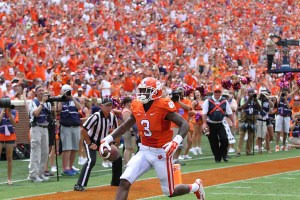 1:46 p.m.
Clemson has a 34-0 lead as Watson comes in and drives the Tigers 78 yards in six plays, which Davidson capped with a 6-yard TD with 3:46 to play in the second quarter. Watson hit Scott with a 37-yard pass on the drive. The Tigers' OL was (left to right) Gore, Beasley, Norton, Guillermo and Webster.
1:36 p.m.
Clemson's Lakip gives the Tigers a 27-0 lead with 7:10 to play in the second quarter. The field goal was 38 yards. As Qualk said earlier this week. It was a confidence builder. The drive covered 31 yards in six plays.
1:30 p.m.
SC State's offense still does not have a first down. The total yardage is Clemson 255 and SC State minus-13.
11:17 p.m.
Stoudt did a nice job standing in the pocket and taking that hit while delivering that touchdown pass to Artavis Scott. Clemson's drive was 7 plays, 64 yards and took 2:27 off the clock. Clemson 24, SC State 0.
1:24 p.m.
Clemson keeps pouring it on as Stoudt throws a 37-yard touchdown pass to Scott to give Clemson a 24-0 lead with 11:17 to play in the first half. Stoudt is now 12-16 for 130 yards and a TD.
1:19 p.m.
Deshaun Watson looked great on that drive as he completed 3 of 3 passes for 52 yards, including the touchdown. He also had 3-carries for 11 yards. He had a 39-yard strike to Williams, who has 3 catches for 79 yards already.
The defense again forces a three-and-out.
1:14 p.m.
Quarterback controversy? No! Deshaun Watson easily drives the ball down the field for a touchdown, capped with a seven-yard touchdown to Charone Peake, who made a nice 7-yard grab. Clemson 17, SC State 0, 14:54 in the second quarter.
1:10 p.m.
That is the end of the first quarter. Clemson leads 10-0. Clemson has 184 yards, while SC State has minus-20 yards.
1:03 p.m.
Here is a picture of Adam Humphries touchdown run in the first quarter.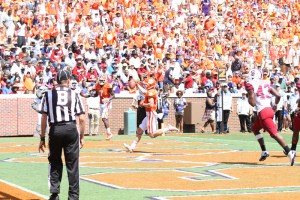 12:58 p.m.
Vic Beasley makes the first true sack of the season for the Tigers  for a nine-yard loss. So far Clemson's defense is playing with a nasty attitude. Burrell blew up a SC State player as well on that drive. That's two three-and-outs.
12:52 p.m.
Clemson goes up 10-0 with 6:51 to play in the first quarter as Ammon Lakip kicks a 22-yard field goal to cap a 11-play, 39-yard drive that took 4:07 off the clock. Freshman running back Adam Choice made his Clemson debut with a couple of carries including a 15-yard run to the nine-yard line. Jay Jay McCullough had an 8-yard catch as well.
12:44 p.m.
Clemson is starting on the plus-50 for the first time this year. The Tigers have the ball at the SC State 44-yard line. Clemson's best start last year was the 32-yard line.
12:41 p.m.
Corey Crawford got his job back and is starting at defensive end. Deshawn Williams, who had a good game last week, is the starter at defensive tackle next to Jarrett.
Defense starts the game with a three-and-out.
12:37 p.m.
Clemson's Adam Humphries goes in for a 2-yard touchdown. It was his first rushing TD as Clemson takes a 7-0 lead at 12:35 to go in the first quarter. The drive was 7 plays for 68 yards and took 2:25. The big play was a deep pass to Mike Williams for 34 yards to the SC State six yard line.
12:29 p.m.
SC State won the toss and will give Clemson the football.
12:28 p.m.
Clemson captains today are safety Robert Smith, offensive guard Kalon Davis, defensive tackle DeShawn Williams and long snapper Michael Sobeski.
12:20 p.m.
Please check out our recruiting visitors thread that we have up on our All-In Recruiting Board. Hale has all the latest on the recruiting front.
12:15 p.m.
We got a couple of nuggets here for you this afternoon. It appears Jay Guillermo will get the start for the Tigers at center, while Reid Webster will start at left guard instead of David Beasley.
Also, I was talking to a few people on the field and they told me this has been a hard week of practice for the Tigers. They said Coach Swinney and all the coaches have really made life difficult for the team so expect a pissed off Clemson team today.
Also, they said Coach Swinney has been extra intense this year. And that is all year. They said he has never been like this. He says they do not want lose the culture they have started here. He said he refuses to let the program go back to the way it was before.
Also, wide receiver Trevion Thompson was not dressed today so it appears he is going to be redshirted this season.
11:25 a.m.
SC State players are on the field and they are wearing white helmets with white jersey. Clemson is coming on the field now. They are wearing Orange tops and white pants.
10:45 a.m.
Clemson football team is on the field warming up.
9:45 am
Alright guys and gals we are back for Week 2 and back in Death Valley for the first time this year as No. 23 Clemson hosts South Carolina State in the open opener. The Tigers hope to get on track this week and claim their first victory of the season.
In three hours, this place will be full and the Tigers will run down the Hill for the first time this year.