GAINESVILLE, Ga. — When Bobby Peck thinks back to all the football players that have come out of Gainesville High School over the years, he just grinds with pride.
A couple that come to mind right away were former Alabama quarterback Blake Sims and former Clemson head coach Tommy West.
"Tommy was probably the best overall athlete that ever came out of Gainesville," Peck said. "He was not only good on the football field, but he was even a better baseball player.
West was selected in the major league baseball draft after his senior season, but instead he pursued a career in football where he became an All-American tight end at Tennessee and later was a longtime assistant coach under Danny Ford at Clemson before becoming the head coach of the Tigers from 1994-'98.
Sims was also good in his own right at Gainesville. He led the Red Elephants to 14-1 record and a state runner-up finish in 2009. He also was one of the state's best sprinters in high school. Five years later, he quarterbacked Nick Saban's Alabama squad to the College Football Playoff and an SEC Championship.
But the guy Peck calls the best quarterback to have ever played at Gainesville is in New York City today as a Heisman Trophy finalist for the second straight year. Clemson's Deshaun Watson arrived in New York this morning, fresh off of his trip to Baltimore, Maryland where he accepted the Johnny Unitas Golden Arm Award.
On Thursday night, Watson was the winner of the Davey O'Brien Award, becoming just the fourth player in the history of the nation's best quarterback award to win it two years in a row.
"We are really pulling for him. He is a great kid," Peck said.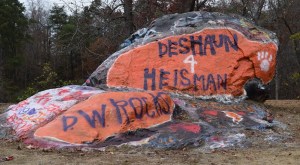 The whole city of Gainesville—a small town located about 40-minutes north of Atlanta—is pulling for their native son. Last Friday, his high school honored Watson with a Deshaun Watson Day. Though the high school is in the heart of Georgia Bulldog country, and its school colors our red and black, teachers, coaches, students and administrators where wearing Clemson orange.
They even painted the big mountain rock, which is located near the high school and by the city park, orange and purple with the words "Deshaun 4 Heisman" on it. On Thursday, the high school painted the same words in orange in the end zone of its football field, the same field where Watson first became a star in high school.
Peck's Longstreet Café, Watson's favorite eating place when he goes home, has the same words under their sign out in front of the restaurant. The local grocery store down the street from the Longstreet Café has the same message as do a lot of other business in the small town.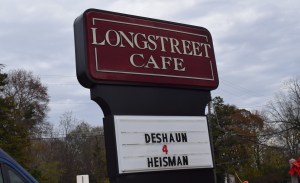 "That just means the world to me," Watson said. "To have that supporting cast and knowing my city is behind me and supporting me, regardless of the fact that I go to Clemson or not. It's just great. It shows the love and passion that we have for anyone that is from Gainesville.
"It just inspires everyone to be great and to be special and to continue to do great things."
But the people of Gainesville don't just love Watson because he is a football star. They love him more for who he is. Peck says he always sees Watson two or three times when he comes home for visits and sometimes twice a month during the football season.
Watson also visits his old high school coach Bruce Miller, as well as his old fourth grade teacher, Leslie Frierson, who bought him his first basketball goal. While he is in Gainesville, Watson makes it a point to visit everyone he can.
"Those are the people that helped get me to where I am at today," Watson said. "Those people showed me the way as a young kid from middle school to high school, there was always somebody that impacted my life and helped me be successful.
"I could have easily, from the neighborhood I was born and raised in, taken the bad way, but they showed me the right way to do things and I learned so much from them. Even when I was not my best that day that always made sure I was doing things the right way, and getting the things that I needed to get."
Frierson said Watson is such a great kid, and is so well liked, that there is nobody in Gainesville that does not love him.
"It is probably overwhelming when he comes back," she said. "He is still the same person through and through that he always was, but I think it probably sometimes seems surreal to him that he is such a celebrity.
"But he handles it with such grace. He takes the time with everyone that wants to talk to him. He is polite and kind, even though he is stretched in so many different directions. He is attentive to other people and recognizes he is a big deal and he wants to encourage the kids to work hard. He is going to take the time to talk to them and not be such a big shot that he has forgotten."
And that's why when Peck, Frierson, Miller or anyone talks about Deshaun Watson, a smile stretches across their face. The city of Gainesville loves him like he loves them.