Highly regarded class of 2020 prospect Michael Robertson returned to Clemson on Saturday for his first visit to Tigertown since he was a freshman two years ago.
The Savannah (Ga.) Islands athlete was on campus for the Tigers' 38-7 win over Georgia Southern. It marked his first visit to Death Valley since October 2016 when he attended Clemson's overtime victory vs. NC State.
"I loved it. The atmosphere was great," Robertson told The Clemson Insider. "Being on the field, I love the atmosphere down in the Valley. It's very exciting and hype — kind of makes me want to suit up."
Robertson (6-0, 180) cites an offer from Clemson along with offers from Georgia, Alabama, LSU, Tennessee, Mississippi State, Kentucky, Michigan, Cal and others.
Some programs are pursuing him as a defensive back, while Clemson is recruiting him as a slot receiver. He named Clemson, Kentucky, Louisville, Georgia Tech, Stanford and Southern Cal as the schools he has been hearing the most from since Sept. 1, when college coaches could begin reaching out to junior recruits.
Robertson said he spent the most time with his area recruiter for Clemson, Todd Bates, while on campus Saturday.
"How happy he was to have me up," he said of what he heard from Bates. "And he's going to come down to visit me."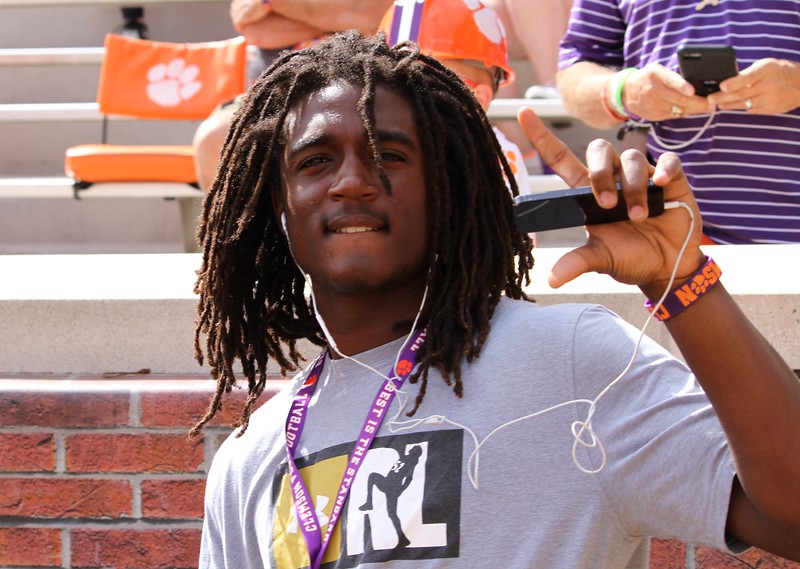 Robertson isn't naming any favorites at this point in his recruiting process, but did admit that Clemson is one of the schools standing out to him.
"They are in my top (group)," he said. "I just got to see where they stand educational wise."
Robertson, who doesn't currently have a timetable for his college decision, says several things stand out to him when he considers Clemson.
"Network, education, environment, coaches," he listed.
Robertson is the nephew of the former No. 1 receiver in the 2016 recruiting class, Demetris Robertson, who transferred from Cal to Georgia this past summer.